June 12, 2013 Wednesday
This morning my eyes opened of their own accord at 6:40 am. I then looked at the window and saw a small sliver of intense light from the crack between curtains. With the presence of light I was faced with a dilemma. To run or not to run. My athletic side won the fight and within twenties minutes I was closing my hotel door. As I walked down the stairs I ran into the concierge. He was most helpful. Apparently they kept the front door locked at night for security reasons, so he let me out and directed me to the nearest park.
On the way there I passed many pedestrians and bicyclists. I was the only person wearing athletic clothing. Then I finally made it a wooded area. I cautiously tried deciphering the sign outside. Nothing made sense so I ventured inside. I hesitantly started a slow jog as a passed old ladies and elderly couples on their morning walks. At every sign I stopped and tried reading them to see if running was prohibited. I saw many blue signs with various white figures standing up with arrows indicating movement and repetition. It seems like these signs encourage some sort of physical activity when you reach them.
I continued running for a while without frequent stops when I finally saw another runner. Eventually more came out of the shadows. They almost all wore long athletic pants and long sleeve t-shirts. I have no idea how Italians can wear so many layers of clothing. I eventually stopped running because of my ankle and walked around a little bit. The weather was perfect with just a hint of chill. The trees loomed overhead and the shadows extended over most of the path. Birds chirped overhead, as I came across a large fountain. I watched it for a few minutes when I heard the oddest sound. It was like a duck quaking mixed with a pig oinking. I'm fairly positive it wasn't a pig hiding in the bushes, so it was probably a bird or something aquatic. It must be commonplace, because an old lady passing by didn't even look twice.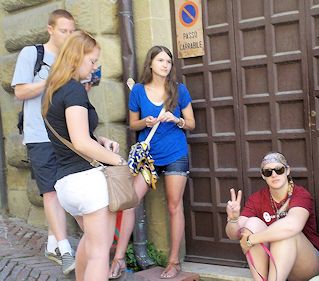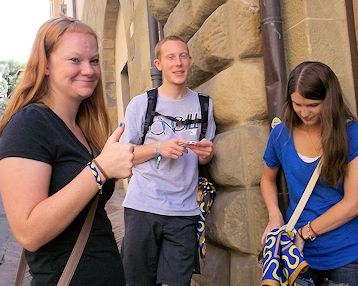 I also keep hearing random bird noises. There's one that literally sounds like the tardis landing or leaving. Every time I hear it, I'm tempted to look.
We had our first class today. My one complaint is the Wi-Fi. I, and most of my classmates, could not connect at all. Fortunately, I was able to email it to myself before arriving in the few minutes the hotel Wi-Fi actually worked. The class was pretty cool. Professor Bosse is very laid back and his class is interesting. Today half of the class had to present a journal entry that was edited for public consumption. Some were interesting, and others were painfully boring. I couldn't even comment on them because they were so dull I tuned out. Mine went well.
After class I ate a kabob place. I had pita bread stuffed with lamb, lettuce, onions, and zucchini. It was decent, but I think anything tastes good given how late our class dismisses. The lamb was really cool. They had a large cylinder thing of lamb on a stick rotating next to a heater. Whenever they needed more lamb, someone would literally shave the meat to take off a layer. I then went with two classmates to do homework in a little coffee shop. There's a courtyard through the back with large tables and umbrellas. We set up shop and tackled our art history pages. I don't even know what Kirk wants on those. He hasn't given back our previous essays so I can't learn from that. I know what I wrote today was crap, but I don't know what he wants and I'm mentally exhausted from all of the essays. Even these journals are strenuous over time. I wish we had more time for Kirks essays. We literally toured the place we have to write about yesterday afternoon and the essay is due tomorrow morning. I'm also at a huge disadvantage because I'm not used to writing or reading dull books. I don't have those skills mastered and I certainly don't have the terminology memorized to use in my essays. I'm also too mentally exhausted to keep things straight. I miss math and logic.
While we were sitting outside it lightly rained. It was so nice. Rain here is a gentle ten minute affair instead of the torrential end-of-the-world rains we get at home. The strongest wind here is like the barest breeze in Oklahoma. It has been nice to be able to eat so many meals outside. The bugs aren't even much of a problem, even in Venice which should be mosquito heaven. After finishing our essays we set out to find dinner.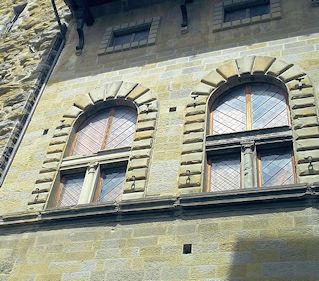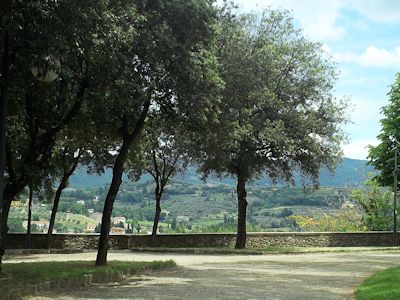 I chose a random place on our voucher list and we headed that way. After passing street after street we finally found it only to realize it's closed on Wednesdays. We then tried another restaurant, but the owner said it was a 30 minute wait. Then we tried another one that hadn't opened yet. We finally went the opposite direction and went farther south than our hotel and couldn't find that restaurant. Then we tried a fifth restaurant on the limited list. We finally found this one in a back ally. It's annoying that these restaurants don't follow their own posted hours. The meal here was decent. I had chicken in some sort of sauce with peppercorn. On the translated menu it said sliced chicken and peppers of 3. It looked more like a quest location than a food item. The chicken was really good and the peppercorn wasn't nearly as spicy as in the states. I had vegetables. I know one was zucchini and another a yellow pepper. The third one I'm uncertain about. I think it's eggplant. Then we had gelato on the way home. I would write which flavors I had, but I literally don't know. I just point to or read the name of anything that looks interesting or I don't know what it means.
I'm so tired I need to sleep now. Hopefully my roommate will leave to go out soon. Apparently everyone else hasn't finished their essays yet.