Lost Memories
John C. McCornack
Yukon, Oklahoma

Shadows of the Past
The country is the place for me
It reflects my past so well
Hay fields and herds of cattle
Where I've always loved to dwell
County style of homes I love
Barns to hold new-born calves
The musky smell of hay so sweet
The best smell I could have
Hooting owls flying in the night
Nothing like that sound
Always adds to the country scene
Watching for critters on the ground
But time does take its toll, my friend
For we know nothing ever lasts
But for me they will always be
Comforting shadows of the past!
Marilyn Lott © 2008 - 360
Lost Memories
Sitting in the old porch swing, dreaming of my past
Twilight's curtain has begun to fall
The creatures of the night are softly singing
And they carry me along as I recall
The days of old that were so dear to me
When we would sit and count the stars at night
Grandpa would play that old violin
And we would sing his favorite songs just right
Chores were finished, it was time to gather
As gentle breezes blew in from the south
Mom and Daddy took the time to listen
To us kids out on the porch of that old house
Sometimes Grandpa told us of his boyhood
And of when he was a soldier in the war
He'd tell us many things about our country
And tell us what the stars and stripes stood far
Now as I go and visit that old homestead
I think about the many times we had
If I listen closely I still hear them
The melodies I sang with Mom and Dad
I can even see my grandpa standing
And playing his violin for all to hear
If I could only go back to my childhood
I'd replay all these things I hold so dear
ImAuthor4U © 1999

Saturday afternoon fishing
The World of Mom:
My mom taught me
A rolling stone gathers no moss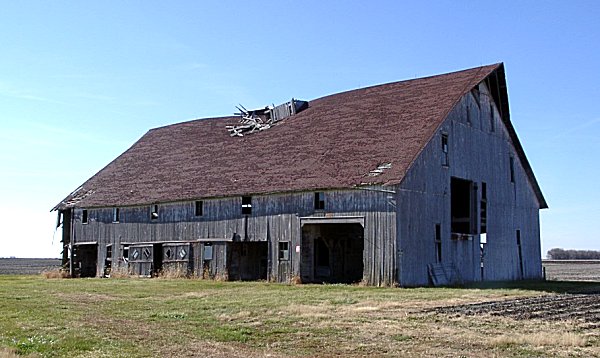 Barn Southeast of Decatur Illinois
Photo provided by Doug Bryant
Topless barn
The World of Mom:
My mom taught me
Live your life
so that whenever you lose,
you're ahead
Wheat field windmill
Early Day Oklahoma
"Next morning early, we strung them out on the trail with hope that they would quiet down, but here we were again disappointed, for they would not line out as they should, but would take fright at a deer that would spring up or a flock of prairie chicken or quail would fly out of the grass which was waist high in many places and along the creek bottoms, reeds and grass as tall as a man on horseback."
http://digital.library.okstate.edu/chronicles/v018/v018p371.html
Wheat field barn

How did the Red Cross start?
As we learned from the links in our Red Cross category, The international Red Cross movement began by a chance occurrence. In 1859, a Swiss businessman, Henry Dunant, traveled to northern Italy to obtain a business document. In Italy, he happened to witness a one-day battle between Austrian and French armies outside the town of Solferino. He was horrified to see that 9,000 wounded soldiers were left without any medical attention, and he organized local villagers to help care for the wounded.
After returning home to Geneva, Dunant could not forget what he had seen, and, in 1862, he published his memoir of the event titled A Memory of Solferino. The book was a huge success and influenced a Geneva charity society to join with Dunant to form International Committee of the Red Cross (ICRC), which met for the first time in February 1863.
Later that year, the committee held an international conference to bring together governmental and private aid organizations. (This combination of public and private support became an essential element of the Red Cross.) The 1863 conference led to ten resolutions that outlined the goals and organization of the ICRC.
The ICRC wanted every country to form its own Red Cross committee to address their needs and to work in concert through the ICRC. The first Red Cross societies were created in Belgium, Prussia, Denmark, France, Italy, Spain, and other European countries in 1863. The American Red Cross was founded by famous Civil War nurse Clara Barton in 1881. Almost every nation in the world has formed its own Red Cross or Red Crescent (as it is called in Muslim countries) organization.
Each national group supports the fundamental principles of the movement, which are humanity, impartiality, neutrality, independence, voluntary service, unity, and universality.
Many of these principles are at the heart of the Geneva Convention of 1864 (also known as the Treaty of Geneva), created by the ICRC. This document mandated that hospitals and medical personnel be treated as neutral parties during war and that wounded must be cared for, regardless of nationality. The Geneva Convention was the start of international humanitarian law and has had enormous influence around the world.
http://www.top-greetings.com



Thanks for spending a little time in my world !

John McCornack
Sign My Guestbook
View My Guestbook

Email me on:
jmccornack@aol.com


Dairy Farms

I really enjoyed the photos on your site. Both sets of my grandparents and my parents have dairy farms, so i grew up around barns and still live around them. Thanks.
I loved your old barns. My grandpa was a dairy farmer on Cape Cod, Massachusetts. I learned mostly all I know about gardens and weather from him. Lots of other stuff, too.
Thanks John for such a beautiful place to visit. There are some beautiful places in Oklahoma. You've captured a lot of beauty with your camera and keen eye. Keep up the good work
I enjoyed your pictures of barns. Don't really know what the interest is, but I really love old barns, the ones that are barely standing, worn and torn. Perhaps early childhood memories as we grew up on a ranch where my father worked. We played in a large old barn in those days also. Although the barn did not house anything except pear boxes, we had fun stacking the boxes and sitting at the top of them. We then moved back to our Reservation (Pomo Indians in Northern California). Just another fan of barns - go figure?
John I think You Make wonderful Pictures, however lately you have turned to a different, way of making your pic's. They are almost In the dark, I knew a Artist that Did that a few years before He Passed away, I certainly hope every thing Is fine with you? Don't get me wrong, I think you have some unique Pictures, and I thank you so much for sharing them with others, I would be lost If I couldn't get these every Day, I hope I didn't upset you. I have shared your web pages with quite a lot of people and they love them, again thank you so much,
I love your pictures can you please tell me some helpful hints that make your photos special
Dear John, what is it that inspires us toward the reverance for old barns and cabins? I never did understand my love for these things. There are many beautiful barns in Austria, very old and still in use. I recently drove from Georgia to SD, ND and Canada. The most rewarding part of the drive was the old barns. I towed a 1940 Ford pickup from Canada. I love old cars too. I visited all your web sites. I loved them. I am sure that you are a remarkable man.


<!- Random Links Script, by Cut and Paste Scripts. Hosted CGI, with NO adverts and FREE. http://www.cutandpastescripts.com -!>Run to a random McCornack Page!<!- Copyright Cut and Paste Scripts -!>