Dancing in Yukon

(Original: 6-12-2000)
(Updated: 9-07-2012)
John C. McCornack
Yukon, Oklahoma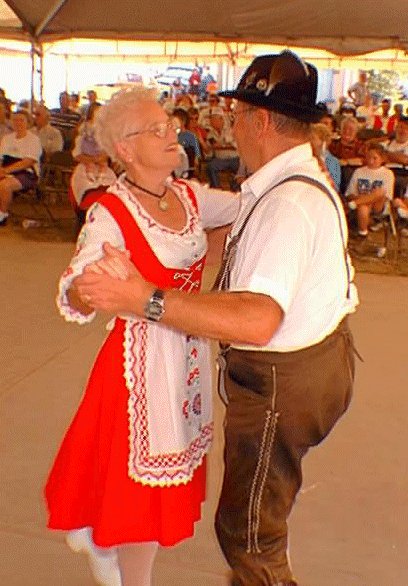 Dancing in Yukon
The tenderness you've shown me,
The special things you do,
Have given me no room for doubt
There's no one quite like you.
I love your voice, your gentle touch,
Your quiet, thoughtful ways.
You changed my life - only thoughts of you
Now fill my nights and days.
The future holds exciting things,
Feel it in my heart,
And even though there's lots of time,
It's so hard when we're apart.
But I'll have patience, that I promise.
I can wait, I really can.
'Cause now I know what's in my future . . .
A very special man.
Marilyn Lott © 2003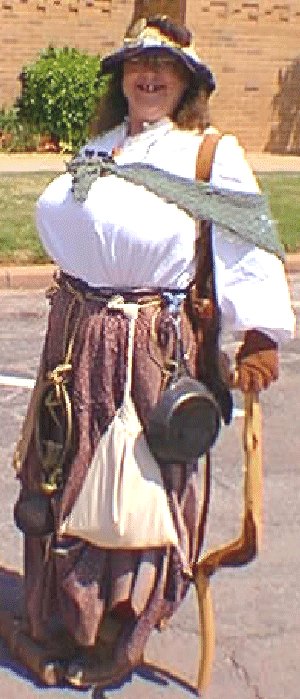 Clinton's finest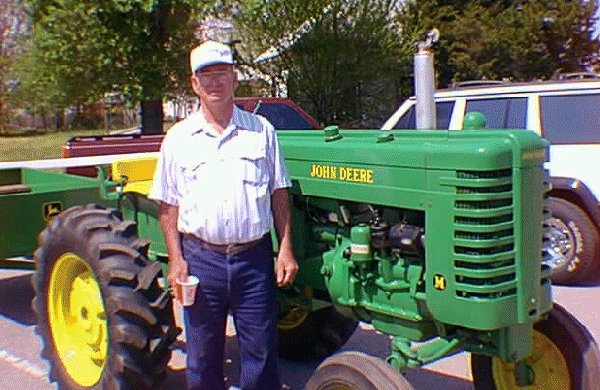 A farmer and his tractor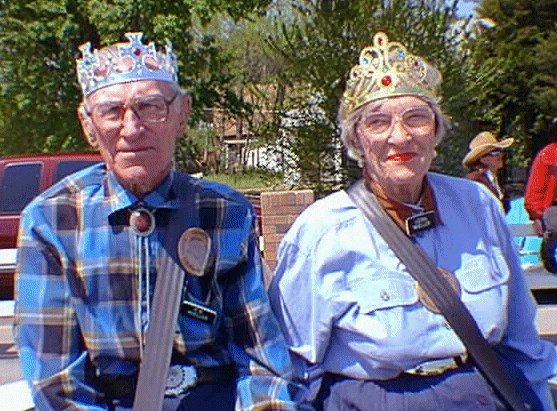 King and Queen of Clinton


Vintage Memories
On a hot summer morning when the town's people meet
To celebrate with dancing in the street
I love to take my lawn chair, and on a corner sit
And watch the celebrators in the heat
Many don their finest bonnets, With ribbons and bows upon it
Many bring their pretty little fans
They sit and drink iced-tea with lemon
Fellows tip their hat's to women
Tap their toes to music from the bands
Music swelling in the air, there's nothing I can quite compare
To all the festivities of the day
People laughing, singing, dancing
Children showing off and prancing
Oh, I love to see these street parades
Hear the music in the grandstand, gentlemen take ladies' hand
And swing them to the rhythm of the song
A little rock and roll to start, and then a gentle waltz to part
They glide and dance to each one's favorite song
Let's not forget concession stands, with all the foods to eat
Where even cotton-candy is for sale
There's plenty there for everyone, and everyone is having fun
Their drinking rootbeer, tea and gingerale
The highlight of the day is when, they choose the king and queen within
The merry crowd that gathered in the street
They're chosen for their grace and charm
As they were dancing arm in arm
Oh, yes, I love these dances..what a treat
ImAuthor4U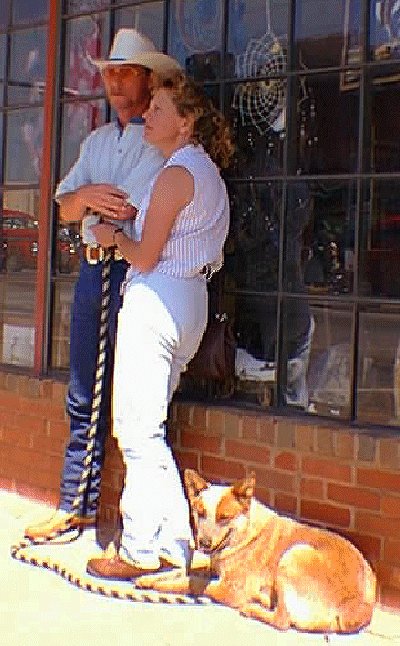 The World of Mom:
My mom taught me
Good judgment comes from bad experience,
and a lot of that comes from bad judgment.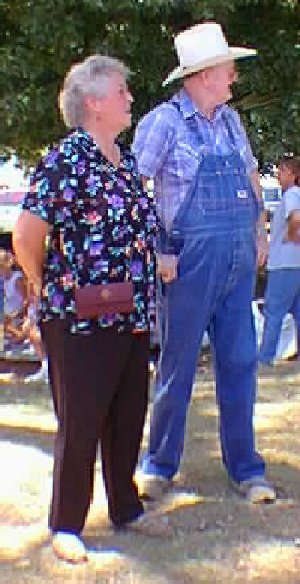 Farm couple at Rush Springs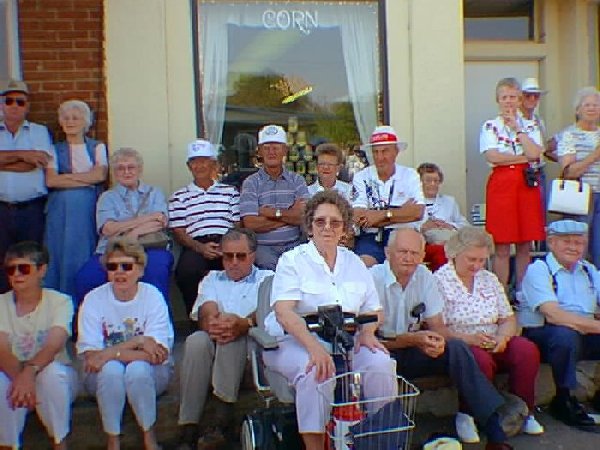 Corn




There are so many interesting people
From all across the land



I especially love to watch people
Dancing to an exciting band.
M. I. Lusby
9-10-12

Why is Sears Roebuck listed only as Sears?
Rest assured, Roebuck is still there! Sears, Roebuck & Co is the nation's fifth largest retail firm, with more than 870 full-line department stores and over 289,000 employees. While the company commonly refers to itself as "Sears," you'll notice that the copyright at the bottom of their official site still credits "Sears, Roebuck and Co."
The company history section of the site points out the firm was incorporated as "Sears, Roebuck and Co." in 1893, after an enterprising station agent named Richard Sears teamed up with a Chicago watchmaker named Alvah C. Roebuck. The name has remained the official title of the company ever since.
The company shot to prominence in the late 19th century with its mail order catalog. At the time, general stores throughout isolated rural areas were marking up their inventory as much as one hundred percent. In short -- mom and pop were squeezing out mom and pop.
Thanks to timely improvements in the U.S. mail system, Sears was able to offer an array of goods at cheap prices. Adapting to America's booming car culture, Sears began opening retail stores in the mid-1920s. By 1931, retail sales topped mail-order sales, and Sears heralded in the birth of the department store.
http://www.top-greetings.com

Fun Facts about living in 2012
1. You accidentally enter your PIN on the microwave.
2. You haven't played solitaire with real cards in years.
3. You have a list of 15 phone numbers to reach your family of three.
4. You e-mail the person who works at the desk next to you.
5. Your reason for not staying in touch with friends and family is that they don't have e-mail addresses.

Train coming into Foss. My sister, Wenona would catch this train every Sunday evening to Elk City to attend Business School in the 1940's.

Photo by r.latimer@ymail.com



Thanks for spending a little time in my world!

John McCornack


Email me on:
jmccornack@aol.com



<!- Random Links Script, by Cut and Paste Scripts. Hosted CGI, with NO adverts and FREE. http://www.cutandpastescripts.com -!>
Run to a random McCornack Page!<!- Copyright Cut and Paste Scripts -!>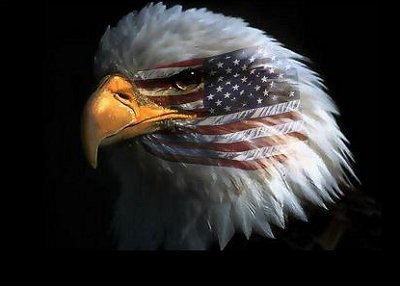 Someone is watching you!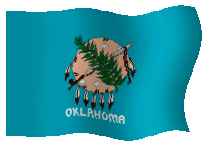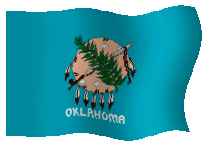 A Simple Redneck Poem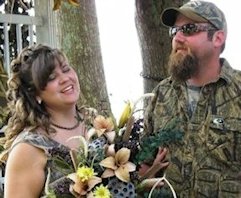 I always wanted to be a Queen for the Day
But he said we did not need another holiday.