Threave Castle
John C. McCornack
Yukon, Oklahoma

| | |
| --- | --- |
| | Grab your ear plugs ... or ... turn up the music and take a quick ride with me through the beautiful countryside of my ancestral homes in Scotland ... This is where old Robert McCornack, born 1803, created the DNA that stills run in my veins today. Of course in the best McCornack tradition we started the day with a good meal at the Lunky Hole. |

Lunch menu in Gatehouse of Fleet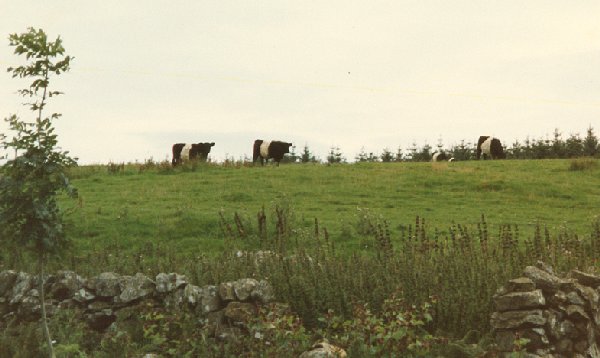 Belted Galloways grazing on lush grass
near Newton Stewart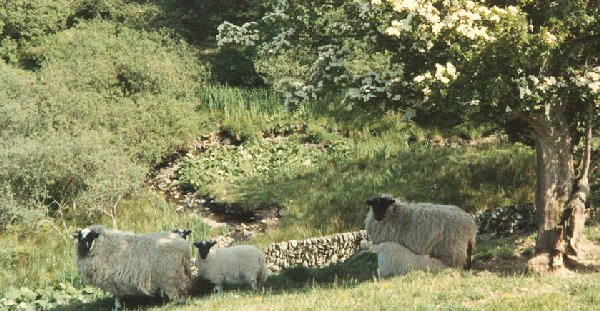 Sheep southeast of Creetown watching us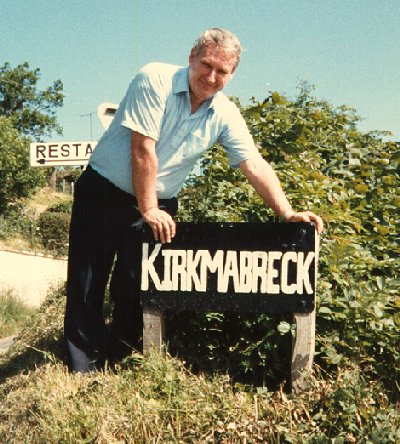 John McCornack finding familiar genealogy signs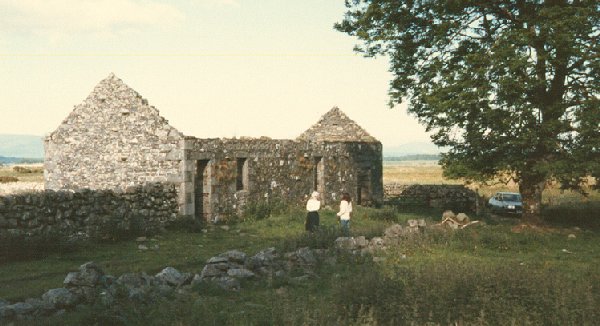 Viewing ruins of ancestral home at Barhapple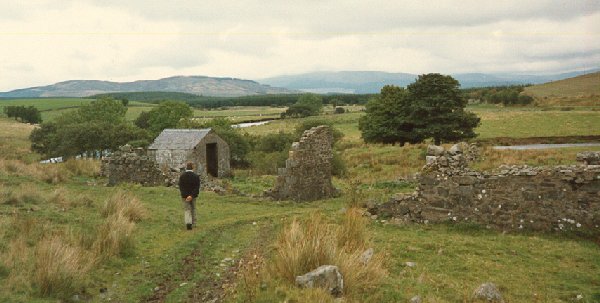 Ancestral Stone
You can travel far and wide
You can scour the country side
You can let your body roam
But your thoughts are thoughts of home
Home is where your heart is true
Home is what's inside of you
You can travel far away...
But you'll go back home someday
The hills of Scotland beacon me...
With their peace and tranquility
The land on which my ancestors lived
It thrills my heart with what it gives
Annabaglish and Barwinnock
Both great ancestral homes to me
Strolling the countryside, hills of such beauty
I view the ruins on Barwinnock property
I stand and reflect on what must have been
The way of life for the ones there before me
On Scotland's hills as I softly tread
I can feel their touch and the memories
I'm storing for the days ahead...
Oh ruins of stones ... I treasure thee
The stories your great walls must know
You were the foundation ... The rock for me
And from you the strength in my veins still flow
My thoughts organized by ImAuthor4U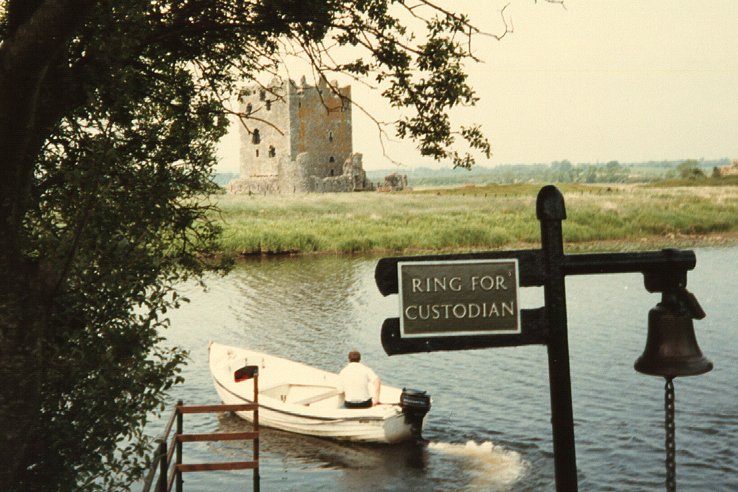 Ring the bell .... and let memories begin at Threave
Threave Castle
Once the stronghold of the Black Douglases, and now owned by Historic Scotland, Threave Castle sits on an island in the River Dee. If you ring the bell when you arrive, the custodian will ferry you across the water so that you can take a look around. Closed in winter. Located three miles west of Castle Douglas in south-west Scotland, this tower (21 metres / 70 feet high) was built by the 3rd Earl of Douglas (Archibald the Grim) between 1369 and 1390. The outer wall which encloses it was rebuilt around 1455 when James II laid siege to Threave and captured it. Three years earlier, the 8th Earl hung a man from the gallows knob which you can still see over the main doorway. It has lain in ruins since 1640 when the Covenanters seized it after a 13-week siege. It was also used to house French prisoners during the Napoleonic Wars. The name Threave has changed over the centuries from Thrave, Trief and Thrieve. It is thought to derive from the old Welsh word for homestead.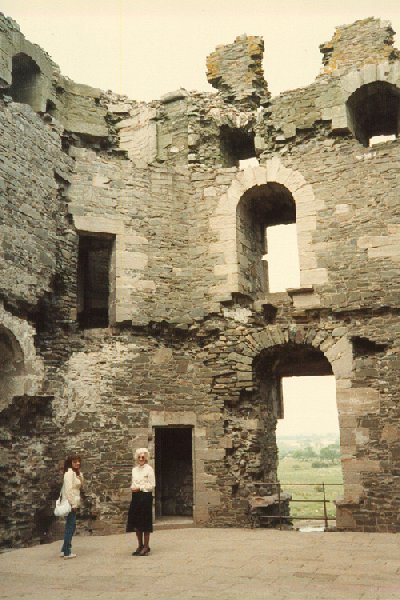 Reliving the past with Scotland McCornacks
Linda and Nessie
Threave Castle
Threave Castle consists of a massive 14th-century keep, rectangular in plan, which stood within a courtyard, enclosed by a wall and ditch, with drum towers at each corner, only one of which survives. An earlier castle here was burnt by Edward Bruce in 1308. The present castle was started by Archibald the Grim - so named because his face was terrible to look upon in battle - 3rd Earl of Douglas, and Lord of Galloway from 1369. He died at Threave in 1400. It was from Threave that the young 6th Earl and his brother rode to Edinburgh Castle in 1440 for the 'Black Dinner', where both were taken out and executed. The 8th Earl was murdered in 1452 by James II at Stirling, after being invited there as an act of reconciliation. In 1455 James II bombarded Threave with artillery, including - it is said - the cannon 'Mons Meg' to dislodge the Douglases. The garrison surrendered, but this seems to have been achieved by bribery. In 1640 the castle was attacked by an army of Covenanters for 13 weeks until forced to surrender. The castle was slighted and partly dismantled. It was given to The National Trust of Scotland in 1948.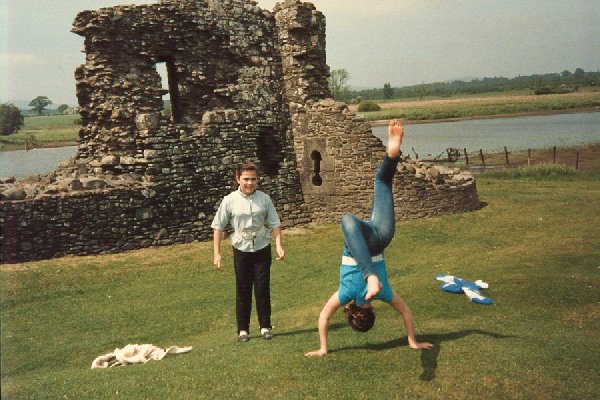 Jane was overwhelmed
as she watched Vicky do a flip

Scotland's Threave Castle
On the island of the River Dee
Is a wonderful Scottish castle
In order to visit, however
There's a little bit of a hastle
Because you must ring the bell
So a custodian can transport you
Across the water on a ferry to a place
That looks too unbelievable to be true
Built by the third Earl of Douglas
Also called Archibald the Grim
Who built this structure in the 1300s
I would have loved to have met him
The castle was captured and rebuilt
The long ago year was 1455
There was also a gallows knob
I'm sure no one left alive
The castle was used for many things
It held French prisoners for one
But has long now lain in ruins
The year of 1640 it was done
It dates back hundreds of years
It's so exciting to know the history
History that is filled with excitement
And a tremendous amount of mystery!
Marilyn Lott © 2006



Thanks for spending a little time in my world !

John McCornack
Sign My Guestbook
View My Guestbook

Email me on:
jmccornack@aol.com
<!- Counter Script, by Cut and Paste Scripts. Hosted CGI, with NO adverts and FREE. http://www.cutandpastescripts.com -!>

<!- Copyright Cut and Paste Scripts 2001 -!>


Likes and Dislikes

Don't you wish you could have met Robert and Andrew McCornack? You know what I just now thought as I typed that sentence? I think it would be neat, since folks DO have access to the means now days to do so that we could and probably SHOULD sit in front of a Video Camera and tell stories of our childhood and tell who our parents and grandparents were, their birthdates and religious affiliation, where they went to school. Illness, education. Who was president.Different interesting things. Talents and likes and dislikes. Many things could be added to this video. Begin the tape like: "Hello my dearest grandchildren, great grandchildren and great-great-grandchildren. I wanted to leave you some wonderful information about your roots and about the DNA from whence you were formed. I wanted to let you know that somewhere in the distant past you have an ancestor who loved the thought that someday you would be here to see this message from me. I loved my children, and their children and if I were on earth today, I would also love you. Now I do love you from the other plane. My blood runs in your veins. Always remember my name. And remember you were thought of. " Then close with whatever they want to end it with. Now go make your video. LOL
Scotland is gorgeous. Thanks for sharing the beautiful pictures.
Hi John hope you and your family are all well, I have been a bit naughty and have not been keeping up with my mail so I am sitting at the computer looking out of the window on a cold frosty morning the sun is shining and everything looks very peacefull at Annabaglish.On Tuesday 27th January we are scanning the ewes to see how many lambs they are caring so that we can split then into groups single lambs twin lambs and triplets so we can feed them according to how many lambs they are caring. The cows are still calving and we had a set of twin calves on new years day a bull and a heifer they are so cute. William is still in New Zealand and he went over to the South Island for Christmas and New Year he went up to Queens town and meet up with some friends and he did a bungee jump he said it was very scary he says he has a video off himself doing the jump. Have you any plans to come over to Scotland? Annabaglish still looks the same.Must go now but i will try and write sooner the next time


<!- Random Links Script, by Cut and Paste Scripts. Hosted CGI, with NO adverts and FREE. http://www.cutandpastescripts.com -!>Run to a random McCornack Page!<!- Copyright Cut and Paste Scripts -!>